The awards that guides and guests reserve for the Derby Grill are closely linked to the harmony created between the premises, the atmosphere and the people, who are the foundations of the restaurant itself.
In the dining room, the courtesy of Roberto Brioschi, Restaurant Manager, and of Maître Antonio Renzulli shines. Their task is not only to pamper guests with Chef Fabio's creations and a wine list with over 400 brands, but also to convey the passion and the familiar atmosphere that has always characterised the Derby Grill restaurant.
Since 2011, Fabio Silva has been the new Executive Chef at Derby Grill and Hotel de la Ville. A Neapolitan, born in 1978, he graduated from the Cavalcanti Hotelier Institute in Naples and began his career covering all the kitchen matches, from garde-manger to first and second courses, up to pastry. His cuisine is the perfect balance between regionality and contemporaneity, with a constant eye on traditions (Neapolitan and Lombardy above all). The result takes the form of refined dishes that are at the same time genuine and easy to understand, a style that has also won over the experts of the most prestigious sector guides. Comparison with starred chefs is a constant, thanks to internships in the kitchens of Antonino Cannavacciuolo, Paola Budel and Claudio Sadler, and joint dinners with chefs such as Enrico Derflingher, Alessandro Negrini and Fabio Pisani, Enrico Bartolini and the Cerea brothers.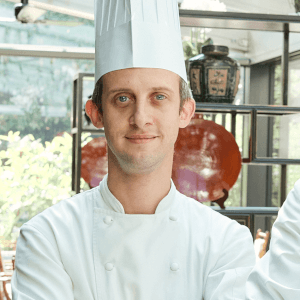 He is the most traditional Lombardy share of the brigade. Born in Lecco and shortly afterwards moved to Valtellina, he became Monzese as a child. Here he attended Olivetti hotel school, during which he alternated between internships in the kitchen of the Derby Grill and seasons in his grandfather's mountain hotel. He has worked alongside Fabio Silva for over twenty years now, growing up together in all the kitchen matches. His role as head of fish and meat courses evolved naturally into Sous Chef in 2011, when Fabio Silva became Executive Chef. He firmly contributes to the management of the brigade by participating in periodic internships in starred kitchens, such as the Mandarin Oriental in Milan with chef Antonio Guida. 
Lorenzo's long career in the world of hospitality began as a bar manager. The transition to hôtellerie and fine dining took place in 2008, when he held the position of sommelier at Villa D'Este: from that moment on, it was a succession of experiences as sommelier and restaurant manager in luxury hotels in Italy and abroad. After five years in London as F&B Manager for 5-star hotels, he returned to Monza where he joined the team of the Hotel de la Ville as Restaurant Manager. A great connoisseur and wine enthusiast, for 10 years he has also been a sommelier teacher for the Federazione Italiana Sommelier Albergatori. Discreet and welcoming, his aplomb puts every type of customer at ease.
Terrific in his care for service and passionate, Antonio Renzulli, after graduating from the hotel school in Vieste, gained professional experience in Italy, Ireland, Austria and Switzerland at famous luxury hotels. He arrived at the Hotel de Ville at a very young age, first as Second Maître and then, from 2006, as First Maître. His strong personality is characterised by natural kindness and a discreet but constant attention to guests' needs.