The awards that guides and guests reserve for the Derby Grill are closely linked to the harmony created between the premises, the atmosphere and the people, who are the foundations of the restaurant itself.
In the dining room, the courtesy of Roberto Brioschi, Restaurant Manager, and of Maître Antonio Renzulli shines. Their task is not only to pamper guests with Chef Fabio's creations and a wine list with over 400 brands, but also to convey the passion and the familiar atmosphere that has always characterised the Derby Grill restaurant.
Executive Chef of Derby Grill and Hotel de la Ville, since 2011. Neapolitan, born in 1978, he graduated from the Cavalcanti Hotel Institute in Naples and began his career covering all cooking matches, from garde-manger to first and second courses, up to pastry. Respect for the territory and the regionals ingredients, enthusiasm and strong organizational skills: these are the guidelines of a cuisine that has won over the experts of the most prestigious guides in the sector.
Restaurant Manager, he has supervised for over thirty years the "daily life" of the Derby Grill restaurant with responsibility and innate savoir fair. He graduated in 1979 from the Vespucci Hotel Institute in Milan and in the same year began his career at the Hotel de La Ville. After a series of experiences in Italy, Switzerland, England and Germany, in 1990 he definitively returned to Monza. His service signature? Reliability, innate kindness and maximum attention in anticipating and satisfying all our Guests wishes and expectations.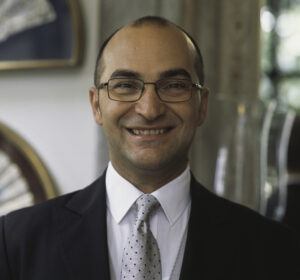 Formidable and passionate, Antonio Renzulli, after graduating from the hotel school of Vieste, had professional experiences in famous luxury hotels in Italy and abroad (Ireland, Austria, Switzerland above all). He arrived very young at the Hotel de Ville, first as Second Maître and then, since 2006, First Maître. Strong personality, natural kindness and a discreet but constant attention to guests' needs.